Bringing Archaeology Conferences Online
If you're not already watching the livestream of the Mobilizing the Past for the Digital Future Conference, you should absolutely start!
Although the sessions are being recorded and will be available on YouTube afterwards, the conference organizers have done a fantastic job of using new media tools like UStream and Twitter to really bring this conference online in a way few others in archaeology have done. Follow along by watching the hashtag #MobileArc and following the conference account @MobileArc15. I've spent most of the afternoon Friday taking care of my son and taking client calls while having the livestream and twitter chat running in the background. These two aspects really allowed me to participate in the conversation and the conference in ways almost as good as being in Boston myself!
Larger organizations (I'm looking at you SAA) should take note: livestreaming doesn't have to be scary or expensive. It can be done relatively cheaply and at high quality. It will drive more engagement and discussion (ostensibly the whole point of having a conference anyway) and will NOT cause a decrease in in-person attendance. With permission from individual speakers and consideration for sensitive information, there's no reason similar livestreams couldn't be done from all conferences by just having a friend in the audience with a UStream account (or other free video streaming services) and a 4G smartphone.
Day 1 Thoughts
The conference speakers and audience is a "who's who" list of digital archaeology rockstars like @BillCaraher, Eric Kansa/@Ekansa of OpenContext, Rachel Opitz of CAST/SPARC, Michael Ashley of CoDA/Codifi/Murkurtu and more folks whose work I am definitely following after today.
I loved seeing the PKAPP presentation by Sam Fee. Fee's group used web tools like HTML5, Javascript, jQuery Mobile, and WebSQL to create their PKAPP mobile recording app that are very similar to the work Chris Webster and I did when prototyping our mobile archaeology recording app in PhoneGap (more news on the app soon, btw). I will be contacting the PKAPP folks for an interview on the ArchaeoTech podcast to talk about their work more.
John Walldrodt's keynote, "Why Paperless?: Digital Technology and Archaeology," was amazing and a great way to end Day 1. In one presentation, he managed to recap the evolution of digital archaeology by describing how his field data recording methods at Pompeii and other large excavations has changed over the past 20 years: from handwritten forms to onsite computers, then PDAs (with an Apple Newton shoutout), to the current use of iPads and Filemaker Go for mobile data collection. I learned a ton about both archaeology databases in general and writing scripts for FileMaker Pro from Walldrodt's "Paperless Archaeology" blog and highly encourage you to check it out if you haven't.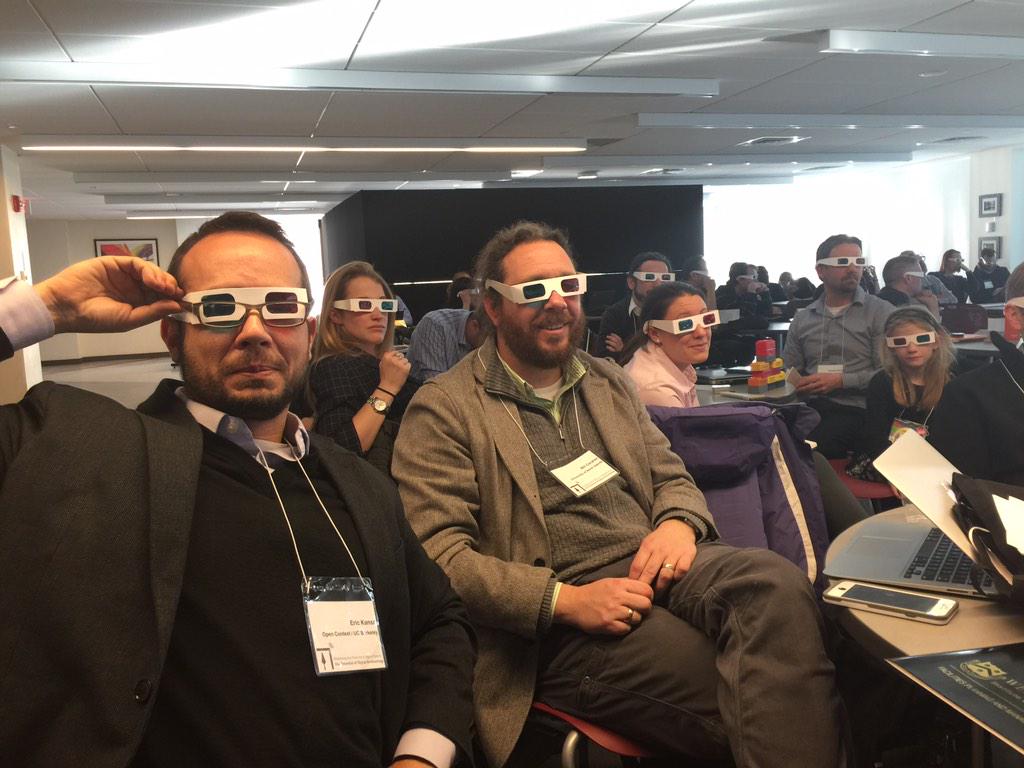 There were other great moments, such as the cool 3D models Steven Wernke showed during his presentation on aerial photogrammetry (which required the audience to don "Bono-esque" 3d glasses) and the constant background discussion on Twitter (which included serious discussion interspersed with corny jokes…or perhaps vice versa). I'm really looking forward to the rest of the presentations and hope other archaeologists and tech nerds will join the group online and off!
Cheers!
-Russell